Madonna meets Mad Meg. Masterpieces and Their Collectors
Extended until 09/01/2022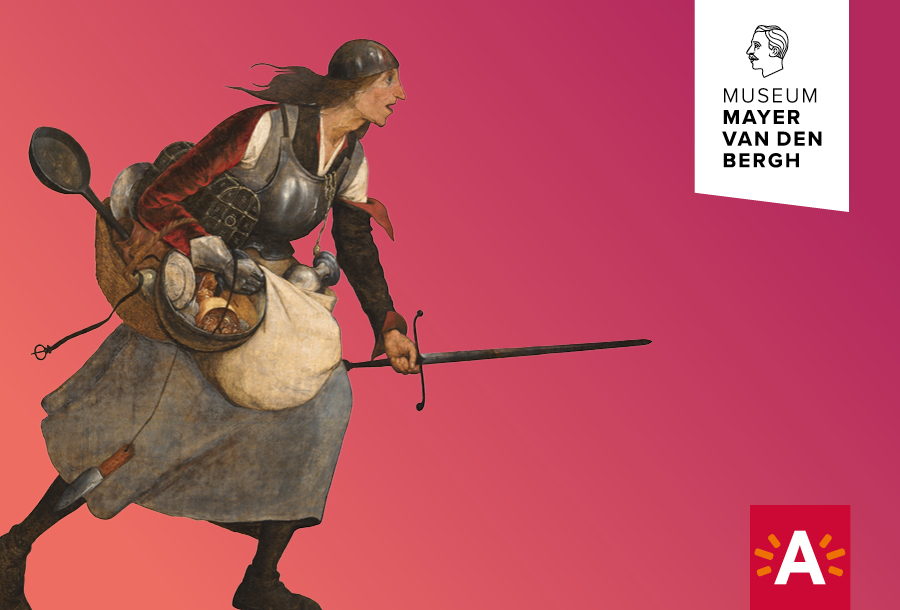 Fritz and Florent's contemporaries tended to view Bruegel's Dulle Griet and Fouquet's Madonna as impoverished, nondescript, weird or downright ugly. Fortunately, the two collectors took another view. They broke completely with the fashions of their time in their quest for that one special masterpiece.
It goes without saying that Fouquet and Bruegel are the real masters behind the Madonna and Mad Meg. Yet it is thanks to the master collectors Florent van Ertborn (1784–1840) and Fritz Mayer van den Bergh (1858–1901) that we are able to enjoy these masterpieces today. These two figures from Antwerp collected paintings, sculptures, manuscripts and other art objects with immense passion. Their acquisitions were often bargains, sometimes investments and occasionally brilliant discoveries. Both collectors were far ahead of their time. For centuries, Rubens was considered the greatest artist and there was barely any interest in Flemish masters like Pieter Bruegel the Elder, Quentin Massys and Rogier van der Weyden, or in the work of the French artist Jean Fouquet. Van Ertborn and Mayer van den Bergh, by contrast, recognized the quality of this art.
Trendsetters
Beginning on 5 October 2019, this pair of astute collectors invite you to visit the Mayer van den Bergh Museum in Antwerp, where Fritz and Florent will sweep you up in their passion for collecting and share several of their masterpieces. The highlight is the recently restored Mad Meg by Pieter Bruegel the Elder. Fritz rediscovered the painting precisely 125 years ago and purchased it at auction in Cologne, where the enigmatic work was displayed high up on a saleroom wall. The young collector proved more alert than the various prestigious museums and was able to acquire the strange work for just 488 old Belgian francs. It turned out to be the purchase of Fritz's life, as the masterpiece was believed lost at the time.
Florent van Ertborn, who acquired around a hundred of the masterpieces that now belong to the Royal Museum of Fine Arts in Antwerp (KMSKA), had a similar nose for brilliant discoveries. Fouquet's highly unusual Madonna – after more than 500 years, still one of the loveliest French paintings – was purchased from a Paris art dealer. To get hold of Antonello da Messina's Calvary, meanwhile, Van Ertborn came to an arrangement with a Ghent collector, who could have sold the little Italian panel for a hefty sum. The precise details have yet to be discovered, but Van Ertborn most likely traded several other works for Antonella da Messina's masterpiece.
Fritz's acquisition of the Christmas cradle might have been a stroke of luck, as the piece formed part of a substantial lot, on which he took a huge financial risk. Connoisseurs and collectors viewed the cradle as a medieval toy, but Mayer van den Bergh spotted the household object's exceptional quality. Nuns in the fifteenth century would pull on the string while singing songs, causing the cradle to rock and the little bells to jingle –a mystical experience that appealed to the senses.
Ode to beauty
Madonna meets Mad Meg. Masterpieces and Their Collectors features thirty-four works that offer an insight into the passionate collecting activities of Florent van Ertborn and Fritz Mayer van den Bergh. Paintings in particular, but sculptures, tapestries, medals and household goods too from the fifteenth and sixteenth centuries engage in a dialogue and reveal a changing world. Fifteenth-century art was primarily religious, with countless objects to help viewers immerse themselves in the spiritual. The juxtaposition of humanist, moral and urban themes from the sixteenth century creates an intriguing confrontation and a difference in energy. The double meanings of Marinus van Reymerswale's Municipal Receiver or Pieter Aertsen's Peasant Company by the Hearth are testimony to an urban dynamic. An emerging merchant class prompted the development in the sixteenth century of new themes in the arts – a moralizing mirror very different to the meditative objects or small, panoramic landscapes of Herri met de Bles and Joachim Patinir from the fifteenth century, in which the religious element frequently unfolds on the margins.
The exhibition Madonna meets Mad Meg is a feast for the eye and an ode to beauty. And a token of respect and gratitude for two celebrated nineteenth-century art collectors. Many of the works they collected have been officially designated as masterpieces: nine of the works in the selection shown here from the KMSKA hold that status. In all, Van Ertborn's bequest includes twenty-one official masterpieces out of a total of 106 art works, illustrating the importance of the collection and Florent's exceptional intuition. Fritz Mayer van den Bergh's collection, meanwhile, runs to 3,100 works of art and 2,500 coins and medals. So far, forty-eight works – including a series of around sixty plaquettes – have been classified as masterpieces, with four more under consideration. Ten of these are included in the exhibition.
Hosts and founding fathers of museums
Fritz and Florent made a highly significant contribution to the world of art, each laying the foundations of what would become major museum collections: that of the Mayer van den Bergh Museum and the Royal Museum of Fine Arts Antwerp (KMSKA).
For this exhibition, Fritz is hosting Florent at the Mayer van den Bergh Museum in the heart of Antwerp. In the course of his short life, Fritz collected over 3,000 art objects and when he died suddenly, his mother Henriette had this museum built to house the collection to which her son had dedicated his life. Paintings, altarpieces, monumental sculptures, manuscripts, tapestries, and more besides are displayed in an atmospheric interior, full of small, delicate art treasures. Today's visitors can still sense Fritz's enthusiasm and connoisseur's eye, as well as a mother's unconditional love for her son, Fritz Mayer van den Bergh
At the beginning of the nineteenth century, Florent van Ertborn bequeathed a fabulous art collection to his native city of Antwerp. This legacy, consisting of 106 panel paintings, remains one of the keystones of what is now the Royal Museum of Fine Arts (KMSKA), enabling it to present an extraordinarily rich collection of Flemish Primitive painting. The KMSKA is currently closed for renovation, pending which some of its leading works are on show at museums abroad. For this particular exhibition, however, they will return to Antwerp under the approving eye of Florent van Ertborn, the museum's founding father.
The exhibition is being organized in close collaboration with the Royal Museum of Fine Arts Antwerp (KMSKA) and dovetails with Bruegel Year 2019.
PRACTICAL DETAILS
Madonna meets Mad Meg. Masterpieces and Their Collectors
From 5 October 2019 to 31 December 2020
Mayer van den Bergh Museum
Lange Gasthuisstraat 19, 2000 Antwerp
www.museummayervandenbergh.be
Admission:
€ 8.00 / € 6.00 / free (tickets: online via www.museummayervandenbergh.be or at the museum)
Opening hours:
Tuesday to Sunday: 10 a.m. to 5 p.m.
Closed: Mondays and public holidays (1 November, 25 December, 1 January, 1 May and 15 August) Open exceptionally on Easter Monday and Whit Monday
Tours:
Duration 90 minutes
Capacity max. 15 persons per guide & max. two groups per hour
Languages NL – ENG – FR – GER
Price guided tour € 75 + € 5 administrative cost (from 2 January € 85 + € 5 administrative cost; not including museum entry fee (€ 8 p.p. or, for groups of 12 or more: € 6 p.p.) The museum has a listening system, so that the guide can be heard perfectly.
Reservation Visit Antwerp - Booking and Ticketing: tel.: +32 3 338 95 30 (working days from 9 a.m. to 5 p.m.) [email protected]
Accessibility:
The Mayer van den Bergh Museum is a historic house with a lot of stairs. The exhibition is on the first floor. Access for wheelchair users is limited to the ground floor.
Getting there: the Mayer van den Bergh Museum is about 20 minutes' walk from Antwerp Central Station. You can find further information at www.museummayervandenbergh.be
City walk: In Bruegel's footsteps
From 5 October 2019 to 26 January 2020
Family gossip adds colour to his life and work, while clients, collectors and friends tell us more about the origins of his reputation as a peasant and folk painter.
The guide will take you to places in the centre of Antwerp with links to the life, times, work and influence of Pieter Brueghel.
For groups
Duration: 2 hours
Maximum 15 people per guide
Price: € 75 + € 5 administration fee. From 2020: € 85 + € 5 administration fee.
Advance booking required
Reservation: Visit Antwerp – Booking and Ticketing, Grote Markt 13, 2000 Antwerp, tel. +32 3 232 01 03, [email protected]
Jan Brueghel the Elder (1568–1625) A magnificent Draughtsman
PDF - 317 Kb
Download